Get botaniq full for 33% off
until 14th of July!
10% goes to Blender development fund
NEW RELEASE: 2020/07/01: 5.4 18 new assets (2 coniferous, 15 deciduous, 1 plant), new feature Snap to ground, deciduous material translucency fix, search bar fix, macOS better installation - Check out full release log at the bottom of this page!
Trees, palms, shrubs & plants library Botaniq: Trees for Blender 2.8+ Cycles & Eevee
About
Botaniq is an ever expanding library of optimized & realistic 3D vegetation. It contains various Trees, Palms, Succulents, Shrubs, Plants and Pots for Architectural Visualization, Environmental Design, Rendering Forests, Landscaping or other Scenes that could use a bit of various Greenery.
The library is expanding as time goes by with more greenery joining in. Its price will rise slightly as it expands however our goal will always be to create a massive library of vehicles for everyone to use at a very favorable price/value ratio. Latest additions are even more trees, shrubs, tropicals, succulents, plants+pots and seasons.
There are also plans to add new features like wind animation, level of detail, tree painting, grass & weeds + more based on requests and feedback.
Botaniq 5.4: Willow park from polygoniq on Vimeo.
Features
Spawn Assets
Each asset has a rendered preview and is easily summonable through our addon. By default the assets are linked but you can also choose to add them as editable or convert them later on.
Add new trees easily
Adding new assets has never been easier. Make your nature scene in just a few clicks by selecting the asset from the library.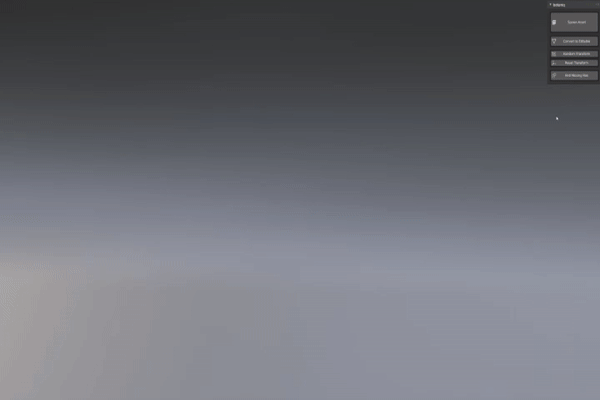 NEW FEATURE - Snap to ground
No more floating trees or dragging your trees to ground one by one. Use Snap to ground button to make sure all your trees are safely planted.
Randomize scale & rotation of selected assets
Since nature is varied and random however it's unrealistic to have each tree unique, we've added an operator to automatically randomize selected assets so that their rotation and scale differs and it makes them appear varied.
Seasons feature
Winter or autumnal scenes are not a hassle anymore. Just select your tree in a desired season and you can further edit the asset to your liking.
Convert to editable
Make selection editable straight from your scene!
Assets
Coniferous
~3 variations for each tree
White Fir
Himalayan Cedar
Cedar
Cypress
Larch
Japanese Larch
Spruce
Red Spruce
Maritime Pine
Pine
Buddhist Pine
Fir
Umbrella Pine
Yew
Deciduous
~3-6 variations for each tree
Maple
Buckeye
Chestnut
Alder
Birch
Hackberry
Lemon
Beech
Fig
Ash
Toyon
Apple
Aspen
Cherry
Oak
Willow
Black Locust
Linden
Elm
Plants
| | | |
| --- | --- | --- |
| Areca Palm | Basil | Aspidistra (Cast Iron Plant) |
| Coriander | Dracaena | Ficus (Rubber Tree) |
| Hibiscus | Monstera | Chlorophytum (Spider Plant) |
| Red Hot Chilli Pepper | Snake Plant | Spathiphyllum (Peace Lily Plant) |
| Tomato Red Robin | Zamioculcas (ZZ Plant) | Pothos (Devil's Ivy) |
Shrubs
~3 variations for each shrub
Succulents
~3-6 variations for each cacti
Tropical
~3-6 variations for each palm
| | | | |
| --- | --- | --- | --- |
| Areca Palm | Coconut Palm | Pineapple Palm | Sabal Palm |
216 textures
(110 diffuse, 106 normal maps)
1024x1024, 2048x2048, 512x2048, 512x4096, ...
What others think about botaniq?
"Botaniq saved me an incredible amount of time adding realistic trees and plants to my Blender scenes. The addon is very intuitive to use and the enormous amount of high quality models looks amazing both in eevee and cycles. It is definitely worth every penny."
- Nik Kottmann from Blender.daily
RELEASE LOG:
2020/07/01: 5.4 18 new assets (2 coniferous, 15 deciduous, 1 plant), new feature snap to ground, deciduous material translucency fix, search bar fix, macOS better installation
2020/05/22: 5.3 Fixed a crasher bug on OSX when no IP address is available, Fixed incorrect usage of gamma correction for normal maps, Fixed a name clash related to random transform operator.

2020/04/20: 5.2 New succulents category with 9 models of cacti, 16 new coniferous tree models, added a search bar, fixed "Convert to Editable" to work correctly with 2.82+, fixed automatic install path issues on Mac, fixed the empty square to always be filled with first tree of given category, improved the UI with added icons and fixed some minor issues mostly relating to some material settings.

2020/02/08: Seasonal versions of deciduous and coniferous trees, new shrub and pine variations, installer is now one big .zip file, fixed issues with missing textures and altered some materials, added "Find Missing Files" for botaniq when textures/models are missing and redid most of the naming system to be more consistent for the future.

2019/10/19: added 23 plants, 24 various pots, fixed some albedos and a couple of small issues like missing alpha, improved documentation and button labels + descriptions

2019/08/14: added 26 tropical trees, 3 shrubs, fixed some textures alphas and couple of alpha clip settings

2019/07/16: added 15 trees, 6 shrubs and improved previews with common English name of given species

2019/07/08: botaniq first release with 63 trees