Features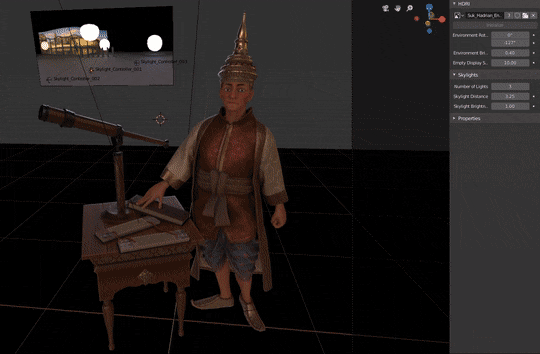 Interactively and intuitively place lights on a HDRI! No need to guess the coordinates!
Lights automatically adjust their own color and intensity to match the appropriate pixel.
You can rotate the HDRI at any time. The lights will rotate along with it.
Move lights to the sun's location with just one click

One of the first things those coming from Blender's Cycles are likely to be let down by, is the fact that HDRI environment maps cannot produce shadows in Eevee.
Conversely, those familiar with other real-time rendering software ⁠— such as Marmoset Toolbag⁠ — are probably disappointed to see that Eevee lacks a way to position directional lights in relation to the current HDRI environment.
This plugin aims to solve that. The Skylight Manager allows you to quickly set up HDRI Environment maps and quickly add "skylights", which are simply Sun lights that automatically derive their positional, rotational, and color values from a controller and reference image.