Geometry Nodes Procedural Zippers
---
With this zipper tool, It becomes easy to draw zippers on your models.
At this moment, there are 4 zipper heads and 5 zipper teeth variations that can be combined to your liking.
The elements are pulled from collections, where you can put your own custom zipper elements to generate custom zippers procedurally.



USER GUIDE
Step 1:
Append the geometry with the geometry nodes attached, Pull it from your asset library or on windows, copy and paste the geometry to your project.




Step 2:
Select the curve with the "GeometryNodes modifier" on it and in the parameters select the "object" that you want to put the stitch on.
Enter "edit mode" and select the "pen tool" with "surface" selected to draw on surfaces and start drawing you zippers onto your model.



Step 3:
In the parameters tab you have to name the UV outputs for the materials of the textile to work.
You can now edit the zippers to fit your style or copy the curve and combine different zippers.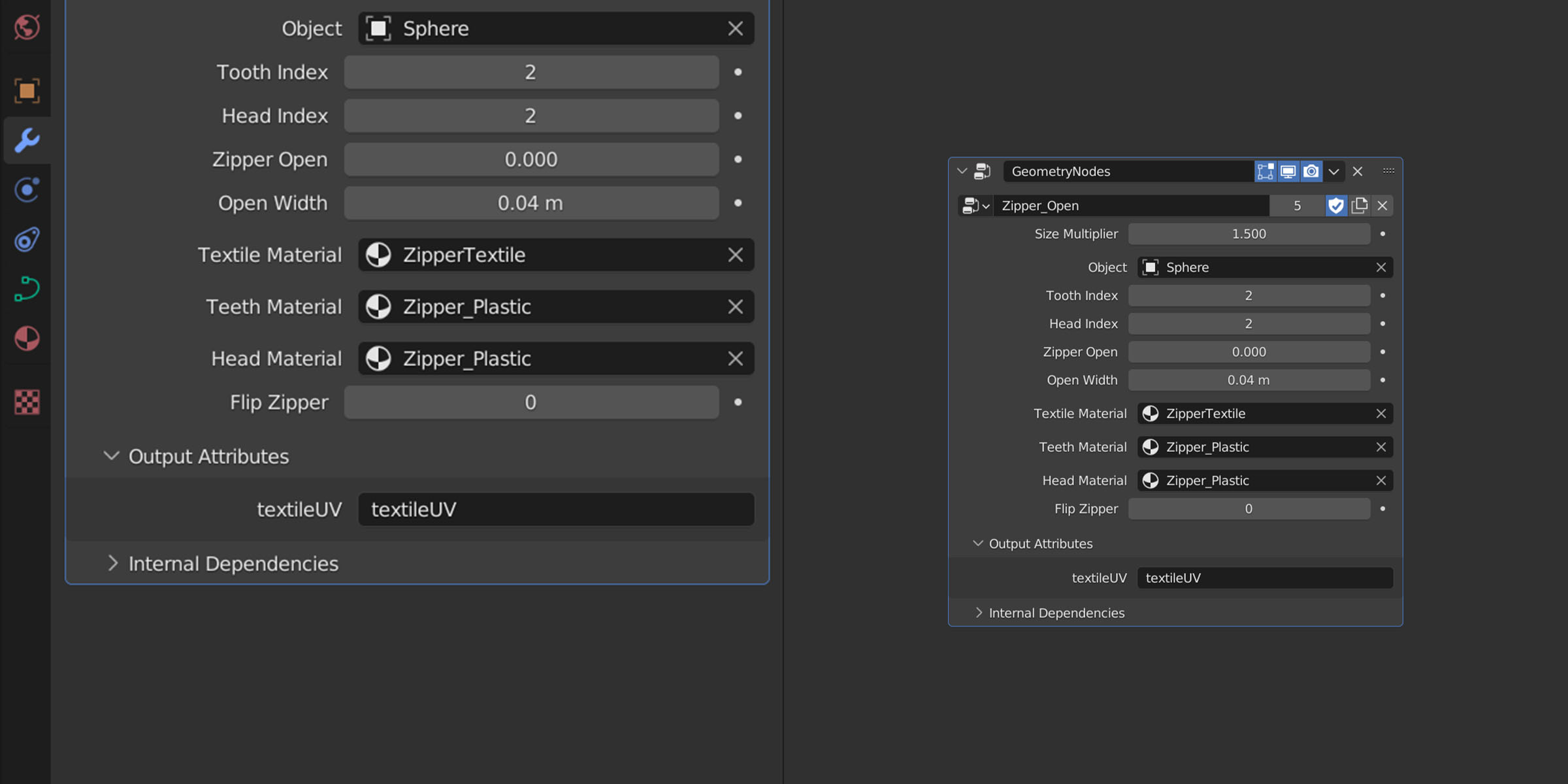 Step 4:
You can also simulate the zippers by realizing the geometry, converting the curve to a mesh and use a surface deform to attatch the zipper to a surface and simulate it correctly. There is an example blend file available with this product.





Version 1.6
June 2, 2023
Toggle double zipper heads and open amount.

Version 1.5
May 7, 2023
Toggle individual sides to isolate the left or right strip.

Version 1.4
September 6, 2022
Bug fix, zipper textile inconsistentcy
Zipper "Textile Resolution" parameter added.

Version 1.3
August 28, 2022
Object set to relative position.
This way the curve and object dont need to have aligned origin positions anymore.

Version 1.2
August 12, 2022
Minor scaling issues fixed
Zipper starting points details added
Realise geometry parameter added
Simulation example blend file added

Version 1.1
August 2, 2022
Minor orientation issues resolved
Zipper endpoints added
Zipper heads details added

Version 1.0
Juli 20, 2022
Release