Treevee - Animated Trees Pack
---
trEEVEE - ANIMATED TREES PACK is what you need!
We created  trEEVEE - ANIMATED TREES PACK for Blender 2.8 to help you with your projects and make your life easier.  With trEEVEE you are able to make visualizations and animations easy and fast. Now you can give some life to scenes using our texture based animations where you can control speed, strength and wind direction on three separated layers. Animate your trees without rigging and making simulations.
trEEVEE is working with EEVEE and CYCLES (including OPTIX).
ONE MODEL, ENDLESS POSSIBILITIES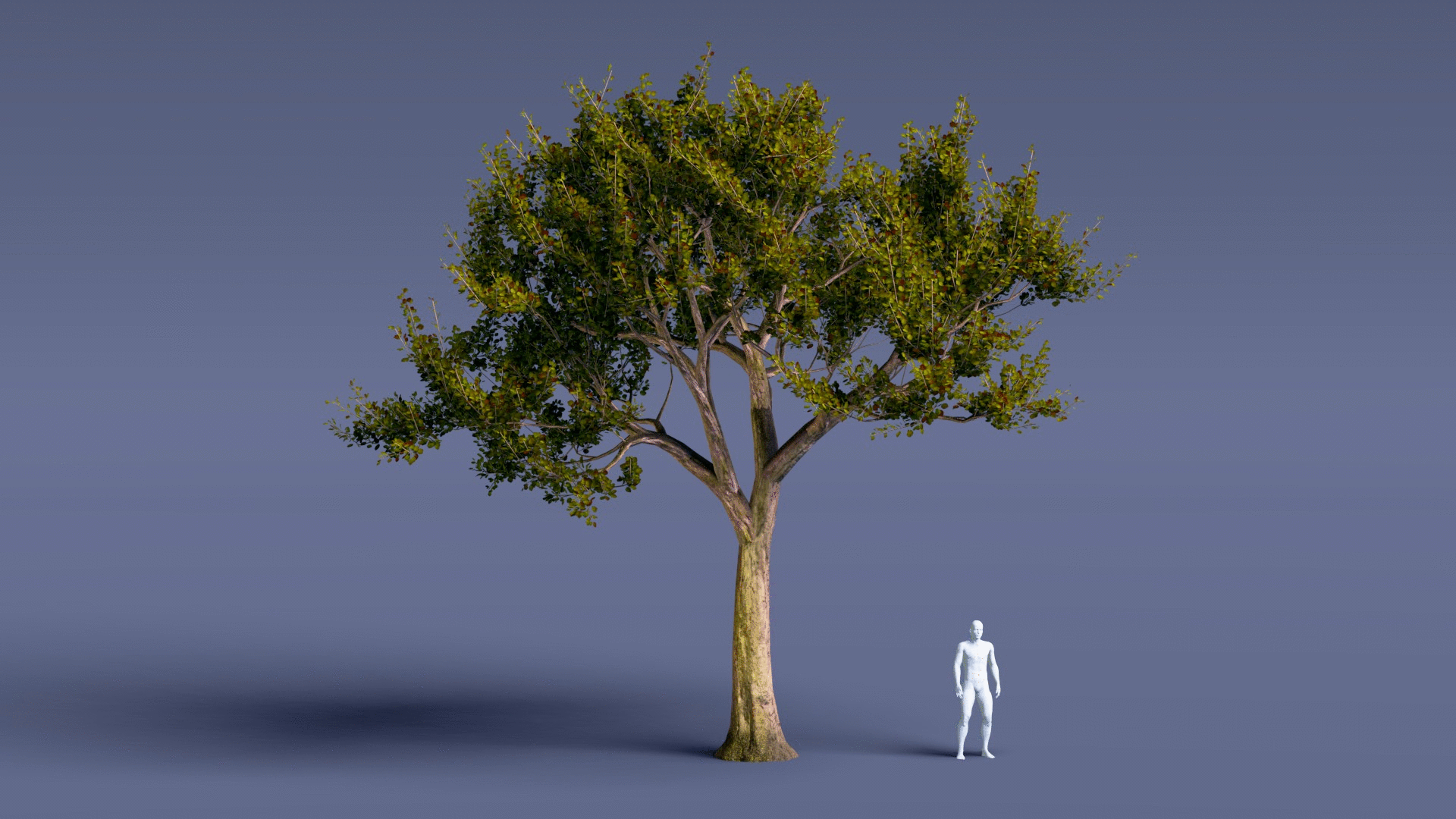 Now you can make your architectural visualizations look photorealistic and professional.
Your architectural object that you would like to present is important in your scene but very important is also environment in which you place that object. For good looking environment you need high quality assets - especially nature assets such as trees, bushes, weeds, grass.
It's not easy to create nice looking 3D models of nature and it takes a lot of time. That time you should spend on your project without worrying about background.
SAVE YOUR TIME!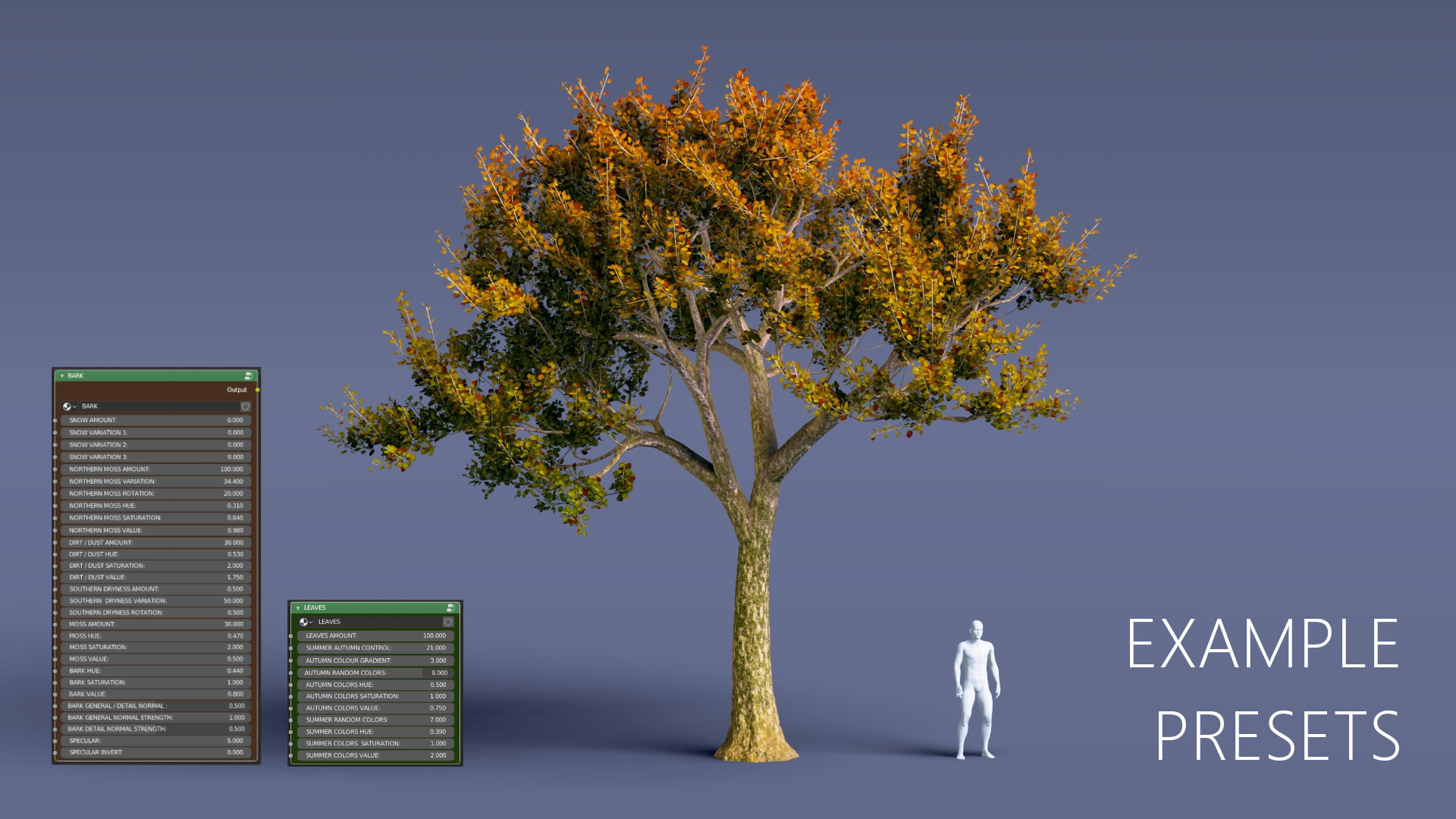 Stay focused on your work and present your projects with animations.
As you know, creating realistic tree models is time consuming  and difficult to get nice results.  To make them animated is even more difficult. You need to create your mesh, armatures, weights, prepare simulations or animate it by hand.
WORK SMART, NOT  HARD!
Easy way to get nice trees into your scene is to use ready prepared models.
There is a lot of trees 3D models that you can buy on the internet. Some of them are nice and high quality but they are really expensive. You need to look for trees that matches to your scene. Sometimes you have to prepare your own materials and textures to make that model fit into your scene mood.
ACHIEVE  PROFESSIONAL RESULTS WITH NO EFFORT
To help you and make your life easier, we created  trEEVEE - ANIMATED TREES PACK for Blender 2.8.
Now you are able to make your visualizations realistic very easily and quick. You can also give some life to your animations  by using our animations where you can control speed and strength of the wind.
EASILY ADD MOOD  AND STYLE TO YOUR SCENE
What is the content of trEEVEE - ANIMATED TREES PACK?
trEEVEE - ANIMATED TREES PACK is a collection of tree models with parametric control of animations and materials.
Models have prepared animations based on displacement modifier that you can control by drivers. There is three levels of animation: wind general, wind leaves, wind side. You are able to control each layer separately with 'custom properties' sliders: wind general strength, wind leaves strength, wind site strength. You can find them in the 'item' tab on properties panel (N).
EVERY SINGLE LEAF IS ANIMATED
Trees have prepared smart materials that will help you quickly adjust the trees to your scene. You can play with many properties of the tree, such as:
snow amount,
moss,
dirt/dust,
southern dryness,
bark,
leaves amount,
summer autumn transition.
All of the mentioned properties are highly adjustable.
PROCEDURAL SMART MATERIALS!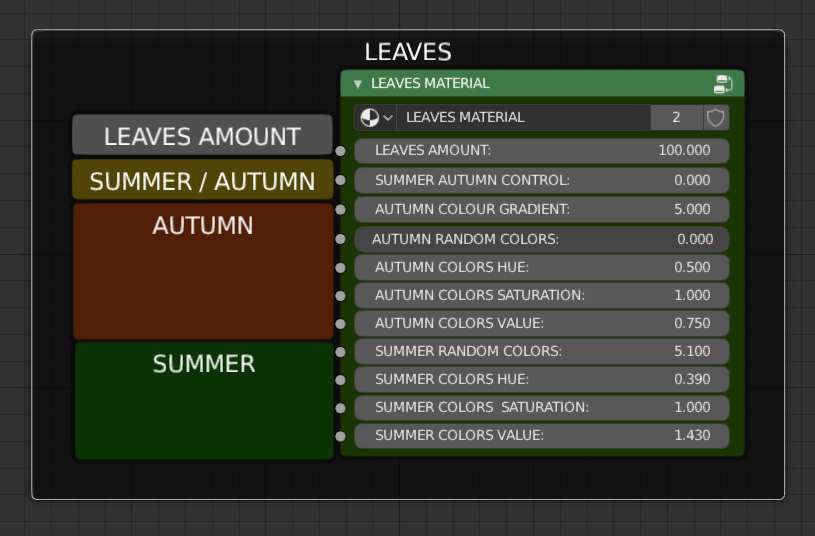 LAVES MATERIAL CONTROLLER NODE
LAVES MATERIAL NODES SETUP
BARK MATERIAL CONTROLLER NODE
BARK MATERIAL NODES SETUP
MAKING NICE ANIMATIONS WITH EEVEE WAS NEVER SO EASY! 
BE CREATIVE! DON'T SPEND SO MUCH TIME ON TECHNICAL ISSUES!
Additionally pack contains objects - with particles setup:
You can change the alpha in the material settings to hide/show object.
ground leaves emitter radial – radial shape,
Use it under the trees. In the texture panel you are able to control the radius and area of leaves distribution.
ground leaves emitter linear – linear shape.
Use it on the roads. In the texture panel you are able to control the area of leaves distribution.
PRO VERSION CONTAINS ADDITIONALLY TREE GUARDS AND TREE GRATES!
TREE GUARDS
TREE GRATES
These bonus elements also have their own smart materials.
YOU CAN ADD THE SMART MATERIALS TO YOUR OWN MODELS!
trEEVEE - ANIMATED TREES PACK contains:
5 highly customizable models of trees with 3 levels animations,
very complex smart materials setup with nodes that are very easy to use,
falling leaves emitter with ready to use particle system,
customizable ground leaves emitter – radial,
customizable leaves emitter – linear,
9 tree guards models with highly customizable smart materials,
24 grates models with highly customizable smart materials.
TECHNICAL INFORMATION
Please notice that "real time" tree animations are turned off in the modifiers panel. Geometry of the trees is heavy to handle this type of animation in real time.
We are working on updates of this product. All updates will be free for all customers.
Collection of objects and materials will be growing.
Don't hesitate to write to us and ask questions. 
We are open for your suggestions and ideas for improvement.
We are also open for cooperation with other authors and artists.

Thank you very much for your attention and for purchasing the product.