The Infinite Rock Materials Procedural Shaders For Cycles
---
The Infinite Rock Materials is a follow-up to the Infinite Rock Builder and is a brand new set of 18 individual formations, plus two boulder creators. In the image gallery above, each formation is displayed with a variation on the lower right, which is just a different configuration of sliders; these are just one variation, many, many more can be created for each formation.
Though the IRB is all contained within one group where you can create your formations either on their own or by mixing them all together, the IRM differs in that the 18 formations are all individual shaders with their own customisation options. With the two boulder creators that come included, you have infinite customisation for these also.
Below is all 18 formations purely for display purposes, each shader has only one group, I just put them all together for easy viewing. The second image are the node groups for the boulder creators.
Within each formation, there are texture baking controls which will allow you to create physical geometry and take the object into other 3D software, the guide is in the above video.
With the IRM, being procedural shaders, they use very little memory unlike RGB textures. Coupled with the fact there's no concerns about repetition anywhere, you can make rocks and cliff faces as large as you like!
To create a rock face or cliff is as simple as making a shape, applying the chosen formation shader and tinker with it to your hearts content! With the boulder creators, the shape of the boulder changes when you duplicate and will react to how you edit the shape!
Update to v1.1
09.09.22
Hi all,
I've finished updating the IRM to version1.1. I've added Colour FX for most formations, which adds a little more variation and realism to those formations, as in the two in the pictures below. They're mostly screen mode, so using light colours will work best.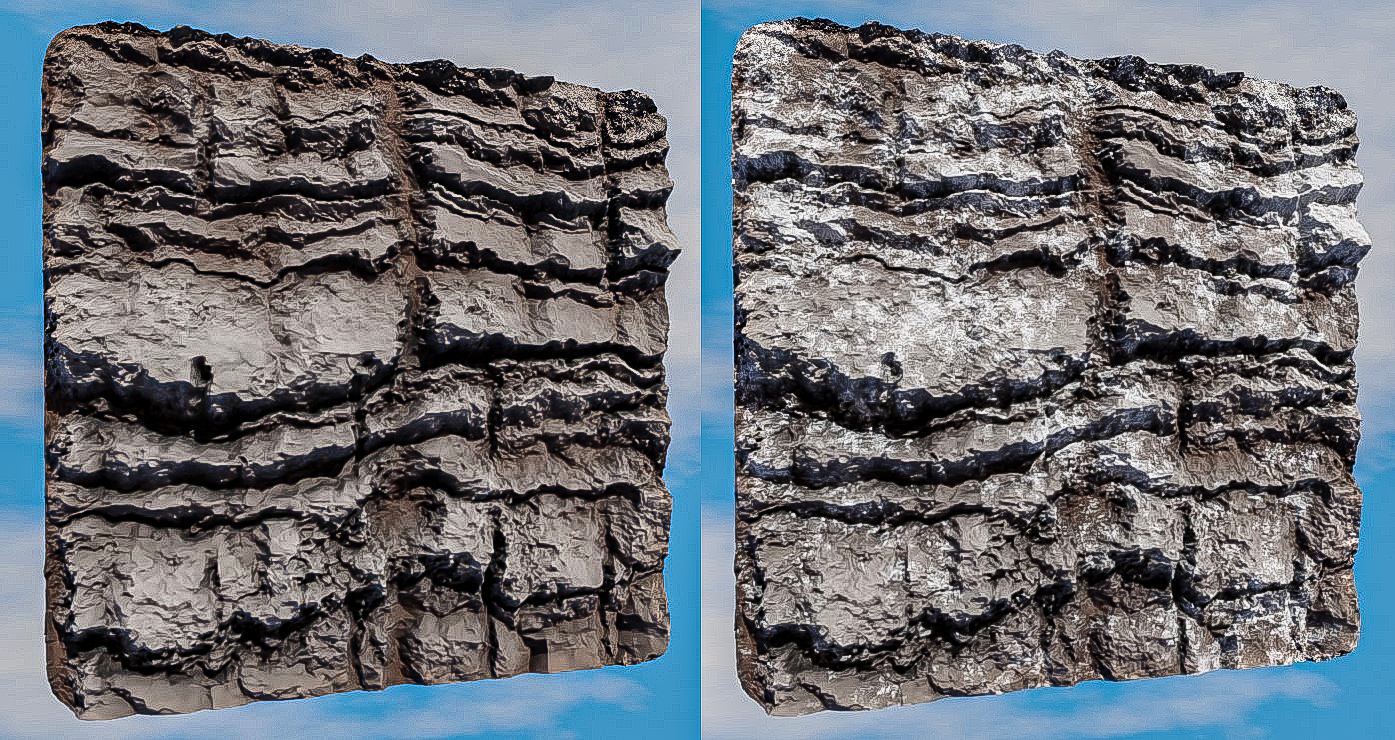 The controls for the FX are in the lower section of each node group. 
I've also added independent controls for the Bump, as scaling down a rock face meant the Bump scaled with it and in some cases looked strange. The new controls have been added to all the Bump sections of each formation.
That's the lot for now, the latest IRM v1.1 is in the downloads.
Hope you're having fun with them!