Orbital Odyssey: The Spaceship Hull Material Collection
---
Unleash your sci-fi creativity
If you're tired of spending hours creating realistic hull materials for your spaceships and space-stations Orbital Odyssey will help you do it in seconds.
The material pack will handle the boring bits procedurally, leaving only the creative decisions for you to make.

Build convincing space sanctioned surfaces and battered sci-fi hulls with Orbital Odyssey. Either use the collection of finished Materials for quick results, or build your own advanced materials using the included Node Groups, to achieve a more specific look.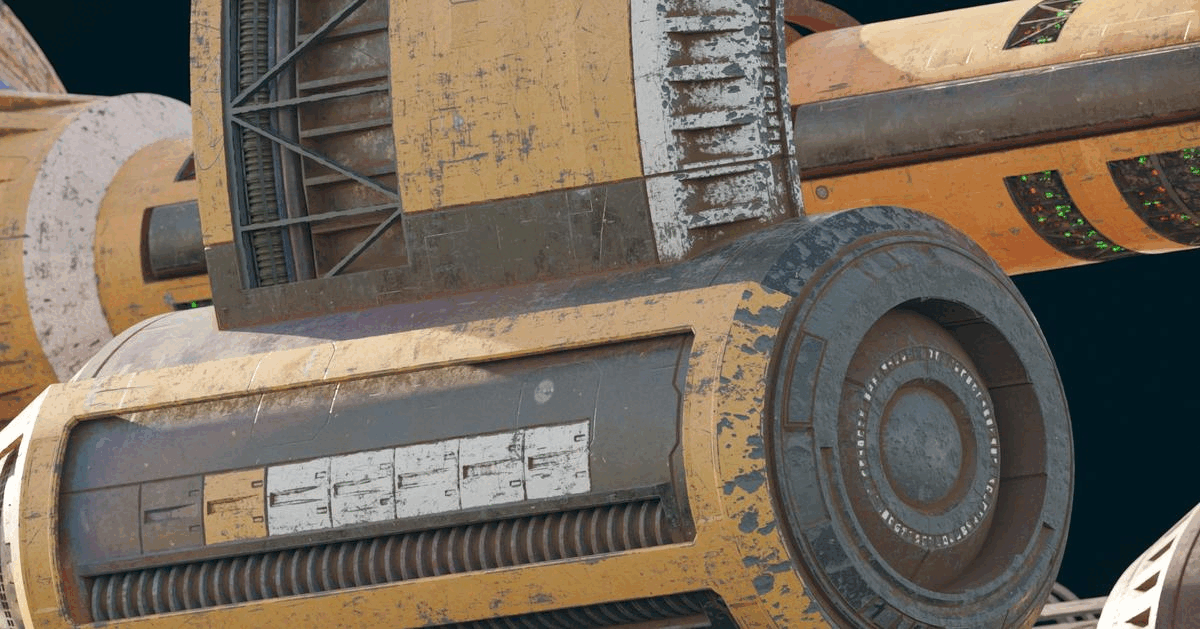 Who should use the material pack
If you want to quickly jump from modelling to rendering polished looking sci-fi content, Orbital Odyssey should save you a lot of time and headache.
If you are curious in how you can set up complex materials yourself, studying the content of the pack might also provide you with a few good insights.
Materials of this pack are covering mainly details that would be found on spacecrafts and space-stations. This includes tech details and weathering masks that would typically be found in space.
However, as the content of the pack is highly customizable, the use of these materials can be broadened to metal surfaces, hulls, or sci-fi content in other environments.
Overview
Orbital Odyssey is a collection of 64 procedural Materials and Node Groups aimed at solving most space hull issues.
You also get a free ion propelled space-to-space freighter as a demo model in the orbitalOdyssey_spaceshipDemo.blend file.
The pack is originally designed for Cycles but much of the content will work with Eevee. When it is not the case, most of the incompatibilities can be solved by baking the ambient occlusion.
Materials and Node Groups are divided into catalogs to find them quickly:

Noises and Grunge
Wear and tear
Tech Patterns
How to use the material pack
This material pack is contained in an asset library. Materials can be drag and dropped directly on your objects. Node Groups can be drag and dropped directly in your Materials.
More information on how to use an asset library in the official Blender documentation: https://docs.blender.org/manual/en/latest/editors/asset_browser.html
Unzip the OrbitalOdyssey_assetLibrary.zip to your favorite asset libraries folder and add the OrbitalOdyssey_assetLibrary folder in Edit-> Preferences -> File Paths -> Asset Libraries
This pack is intended for Blender 3.4 and above since it is the first version supporting Node Groups in the asset library.