**

Now compatible with 3.4+. Due to shader node changes by Blender there were parts of the addon that broke because of the update. 

If you're using 3.4 or above v2.0.1 is required

. If you're using an 

earlier version than 3.4 the v2.0.0 is required

. Moving forward all updates will only be compatible with Blender Versions 3.4+

**


LC2 Overview: Watch this video to understand broadly what Layer Creator 2 is designed for. For details and more complex scenarios head over to the Docs Page.
Layer Creator 2 and Paint Tools are here!
First want to explain briefly what LC2 is. Using images as the base for all layers, it allows you to rearrange layers, adjust individual colors, blend between layers in the stack with other custom images, or procedurally with built in node settings, and copy settings between layers.
The goal of LC2 is to make texturing all around a smooth and intuitive workflow. With the incorporation of procedural elements, improvements to the layer system and the all new Paint Tools, high quality textures of any style can be created quickly.

Paint Tools- 

This optional and independent addon carries default brushes and textures, brush tools such as Color Jitter and Mask Groups to easily hide parts of a mesh while painting. and more :) 
The entire addon was rewritten to incorporate node groups into the layer system. This opened up so many possibilities that originally were out of scope.
Delete layers, reorder layers, save images, all withing the addon Panel.
We're PROCEDURAL!  I've implemented procedural textures than can be used as textures or masks for individual layers or all.
Share data across layers and channels. With new tools you can copy images and settings across layers and channels without having to touch a node. 
Check the documentation for an in-depth overview on Layer Creator and Paint Tools
Join the Discord for questions, bug reports, and recommendations!
Hands Free Node Graphs-
Once you learn the fundamentals you can create textures without having to touch shader nodes.
Instantly Import and Assign PBR textures- Seriously...it takes seconds
Full control over all Layers and Channels- Don't like that color? Change it
Brush AND Texture Presets- The moment we've all been waiting for.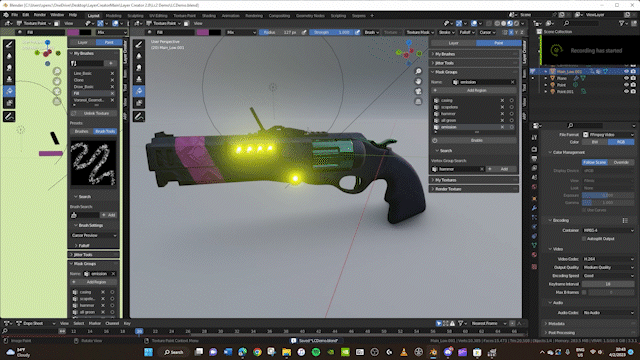 Mask Groups- Save your Ctrl+Z buttons and hide it!!
Render Textures FAST- anything you can put in a blend-file is a potential texture!
MORE! Check documentation page for an in depth explanation of each addon. Happy Blending