Jack Frost | Winter Asset Pack
---
Do you find UV unwrapping tedious? 
Glossy + Diffuse + Noise texture not good enough?
Introducing...

JACK FROST is a 3D asset pack with everything you need to create a winter wonderland!
6 easy to use node groups!
Snow Shader:

Ice Shader

Frost Shader

(New) Geometry Node Assets

Gravity Snow: Add dynamic snow geometry to any object. You maintain full control of the object shaders.



Falling Snow: Add dynamic falling snow particles. Control size, amount, region, speed, wind and much more!



Snowflake generator: Create unique snowflake models instantly!




Individual Snowflake Models:
10 unique snowflake 3D models + Shader: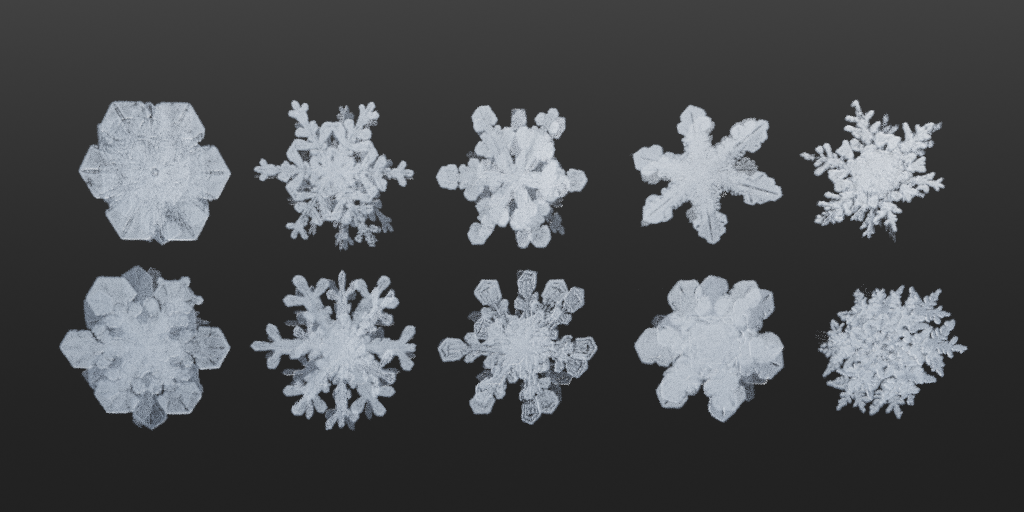 New Addon!

Includes easy access to all tools within a couple clicks.
Also appends a new JackFrost menu to the default Add menu in the 3D viewport!

Other Features:
All shaders are Eevee and Cycles compatible! No more switching materials with render engine!

All controls (shader/geometry nodes) are automatically made available from the same panel.



--------- Bonus (Updated) ---------
5 Blend file scenes showing how to use each of the shaders!

Included:
Snow Shader
Ice Shader
Frost Shader
Gravity Snow Geometry node setup
Falling Snow Geometry node setup
Snowflake Generator Geometry node setup

10 unique snowflake models with normal maps
5 blend files for demo scenes
Shader Documentation
Free lifetime updates
Good karma for supporting the Blender Foundation :)
v1.41:
Asset browser compatibility for included asset file

v1.4 Update:
Complete refactor of the entire asset pack!
New addon
Upgraded snow
Upgraded ice
Upgraded frost
Gravity Snow
Falling Snow
Snowflake generator
Enhanced snowflake textures

Make all shaders compatible with EEVEE + Cycles

New Documentation

along with heaps of improvements and upgrades!
All free for existing customers :)

v1.3 Update: 
Entire shader collection optimized for Eevee. Jack Frost now includes a Cycles shader collection and an Eevee shader collection with optimized material settings.



v1.2 Update:
Better looking gravity snow with a smoothing parameter!


v1.1 Update:
New Dirty Snow demo scene + 2 extra snow flakes: