Image Editor Plus 1.6 Released! (Jan. 18)
Image Editor Plus is an add-on that lets you modify your image in seconds. Clear, fill, flip, rotation, adjusting colors, and applying some filters in just a few clicks without external editors such as PhotoShop or Gimp.
This add-on extends the UV/Image Editor in Blender and provides the following operations.
Cut/Copy/Paste
Clear, Fill
Crop
Adjust hue/saturation
Adjust brightness/contrast
Adjust gamma
Adjust color curve
Flip, Rotate (-90/+90) for whole image
Flip, Rotate (-90/+90/arbitrary), Scale for layers
Offset
Apply filters
These image operations can be applied to packed/unpacked images, and reflected to the 3D model view immediately.
You can make a selection to edit the desired area on your image.
It's easy to copy/paste a selection or an entire image. The pasted images are displayed as layers, and they can be moved, rotated or scaled.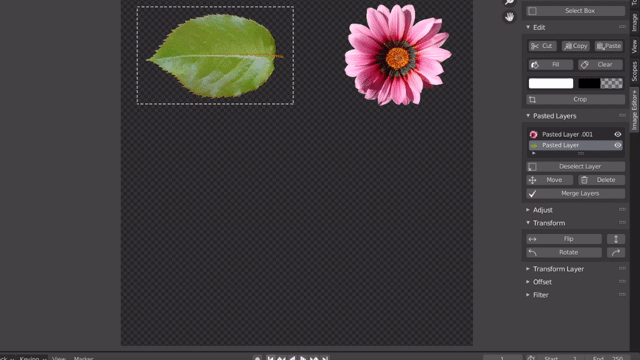 By applying the some filters, you can add special effects to your images.
Blur
Sharpen
Add noise
Pixelize (Mosaic)
Make seamless
'Make seamless' filter is useful for making your image tileable.
Changes
Ver. 1.6 (Jan. 18, 2021)
Pasted layers are now appeared in the 3D View when the Image Layers Node add-on is enabled.
Ver. 1.5.1 (Dec. 20)
The order of the pasted layers can be changed.
Fixed bug: When you copy and paste between HDR and sRGB (PNG/JPEG/etc.) images, the pasted image will become dark/bright.
Ver. 1.5.0 (Dec. 6)
Support HDR image format.
Fixed bug: Layers appear behind the main image in Blender 2.91.
Ver. 1.4.0 (Oct. 5)
Added Rotate and Scale operations for layers.
Changed: you can no longer select a region inside the layer (performance reason).
Ver. 1.3.4 (Aug. 30)
Fixed bug: The add-on is crashed when Rendered image is edited.
Ver. 1.3.3 (Jul. 25)
Fixed bug: Preview image is not updated when operations are applied to the image.
Ver. 1.3.2 (Jul. 23)
Added 'Deselect Layer' under the Pasted Layers.
Added an eye icon to each pasted layer, which allows you to show/hide the specified layer.
Ver. 1.3.1 (Jul. 6)
Fixed bug: The layer might be lost when the name of a layer is changed.
Ver. 1.3.0 (Jul. 4)
Image operations now can be applied to an active pasted layer.
Ver. 1.2.0 (Jun. 28)
Added cut feature.
Added crop feature.
Added foreground and background color for the fill/clear.
Ver. 1.1.1 (Jun. 27)
Source code reorganized.
Fixed bug: The order of the layers is reversed when layers are merged.
Fixed bug: Zero division warning may occur when layers are merged.
Ver. 1.1.0 (Jun. 26)
Added copy and paste feature.
Added some shortcut keys.
Fixed bug: Some operations conflict with UV editing in the UV edit mode. (Now this add-on is disabled in the UV edit mode).
Fixed bug: Image selection does not work correctly when 2 image editors are open.
Ver. 1.0 (Jun. 9)