Ready For Blender 4.0.1 👍
Exreme PBR Nexus V 4.1.11+  Officially compatible with Blender 4, check out the release notes
Elevate Your Creativity with Extreme PBR

I'm thrilled to introduce you to Extreme PBR Nexus, an addon that I've developed with passion to simplify the world of 3D materials, which I've continuously improved over 4 years of development. Extreme PBR aims to free you from the worry of tackling Blender's nodes. I've designed an intuitive interface that significantly simplifies the management of over 1800 materials.

---
Texture Paint between materials 🖌

You can achieve this with just 3 clicks! Explore the simplicity of easily painting between materials with any material from our extensive library of 1800+ materials.

---
Car Paint

The Car Paint Material in Extreme PBR Nexus has been improved a lot, and is now extremely realistic. You can go from simple paint to metallic paint, complete with metallic flakes, just like in reality.
---


Realtime Animated Water💧
Finally a quick and easy water material! The water is animated automatically, and can be easily edited. Check out this short animation using the water material:
---
Blend Materials Along the Z-Axis
This innovative feature enables seamless blending between all the materials in the library. You can mix them starting from the top or the bottom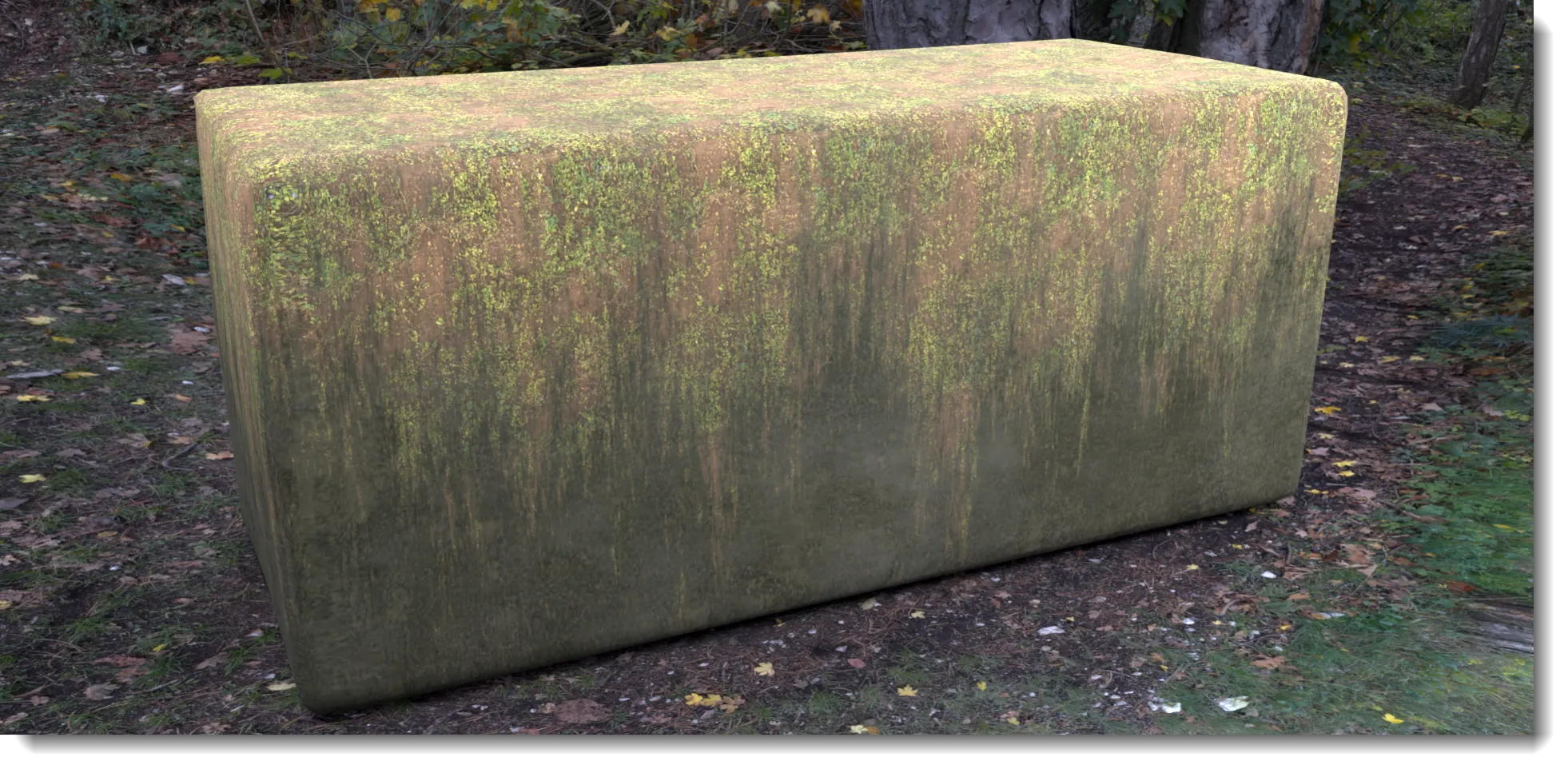 ---
Worn Edges:
With the new "FX Layer" system, it's now possible to easily create worn edges in Cycles and Eevee.
---
Displace/Microdisplace ready:

Displacement is always ready for all texture–based materials, so you can turn it on or off whenever you want. Everything is based on the native, non-destructive Blender technology (modifiers).
---
Create your scene:
A comprehensive collection of over 1800 materials is waiting for you in this ready-to-use library. The huge variety of materials can be blended together to significantly enhance your creations. As an example, check out the intricate brick displacement in the rendered image below that showcases the library's potential.
---
Anti-TIle System
From Extreme PBR version 4.1.111 (Released November 17, 2023) a new anti-tile system has been introduced that allows you to eliminate texture repetitions! If you have your own textures and want to use them you can do it with Extreme PBR Shader Maker, this system will eliminate repetitions on your textures 👍
---
Fast and Easy:

Managing the 1800+ materials is now simple, and we've also made it really easy to mix and paint the materials.

---
Subsurface always ready:

Subsurface scattering (SSS) simulates how light penetrates objects such as plastic, rubber, and human skin. This effect is now ready to use in all Extreme PBR materials.
---


Surface Imperfections:
With the FX Layers system, realistic imperfections are just a few clicks away, like these scratches and fingerprints
---




Mix materials with any black and white mask
With the new FX Layer system, it's easy to mix materials in your black and white image.
---
Baking made easy – ready to export your painted material to UE and other 3D Engines
Once you've painted your object, you can easily bake it and export it to Unreal Engine or other 3D engines.
---
Simple UV map manipulation:

The Mapping Menu allows you to manipulate the UV's scale and rotation as well as slide maps on the X-Y (UV) axes on the fly – super useful for those who do architecture and interior design. We know how important it is to work visually!

---
Shader Overlay 
Since Extreme PBR 4.0.200, we've made it possible to mix all the materials in your scene with the new "Shader Overlay" system. This means you can apply any material to all the selected objects, allowing you to create an animatable gradient effect between your chosen material and the original object materials. You can also use the "Invisible" material from the Extreme PBR library to create "Cut Plane" animations.

Model: 
"Mars One" Mission - Base
 by 
admone
 from Sketchfab: 
Link
---
Material Override in Cycles/Eevee
The Material Override works in both Cycles and Eevee, allowing you to selectively override materials. This means you can easily choose which materials to replace and which to keep for specific objects. You can use any material in the scene as an Override, as well as any material from the Extreme PBR library – simply select the objects that you want to override.
---
More than 1800 Materials included!
All the materials are organized into Libraries / Categories, complete with tags and an easy to use search system.
---
Asset Browser Ready
Since Extreme PBR version 4.1.100 it's possible to create the asset browser directly from the Extreme PBR library. This allows you to easily access all the materials in Blender's asset browser.
---
Texture Manager
Using the Texture Manager you can access the approximately 9,000 textures (diffuse, normal, roughness etc.) for each resolution in the Extreme PBR library, allowing you to change them, modify their colour/saturation/exposure and more, or import your own textures. As you'll see below, there is also a Texture Browser that allows you to search for all the textures for each material in the library.

---
Professional documentation
I've put direct links to the documentation in each section of Extreme PBR Nexus, making it much easier to learn the features – just click on the icons (?) to open the online documentation. For many of the buttons, when you right click on them, a button will appear that links to the documentation. The documentation has also been rewritten from scratch – it's now much more complete and better structured than before, and is constantly evolving.
---
You decide which version you want
:
Up To ½k (Library size 1Gb Approx.) :
Extreme PBR Nexus + Default Library (1800+ Materials ½k ). 2 exapack files



Up To 1k

 

(Library size 5Gb Approx.) 

:
Extreme PBR Nexus + Default Library (1800+ Materials ½k, 1k)  3 exapack files
Up to 2k (Library size 18Gb Approx.):
Extreme PBR Nexus + Default Library (1800+ Materials ½k, 1k, 2k ) 7 exapack files


Up to 4k (Library size 61Gb Approx.):
Extreme PBR Nexus + Default Library (1800+ Materials ½k, 1k, 2k, 4k ) 18 exapack files


Pro Pack (Library size 185Gb Approx.):
Extreme PBR Nexus + Default Library (1800+ Materials ½k, 1k, 2k, 4k, 8k )  49 exapack files
If you choose a lower priced version and decide to upgrade to a more expensive one later on, you'll only pay the difference.
---
The core of Extreme PBR Nexus is the same in all versions!


If you have a video card with less than 4GB of RAM, I do not recommend choosing the 8k version, because rendering with your GPU will probably exceed the VRAM, resulting in a black screen.
If you have the space on your disk, you might consider the 8K version – it's great resolution and only occupies +/- 185 Gb of space.
---
Free Updates!
If you've already bought the addon here, updates will always be free!








---
Which versions of Blender does Extreme PBR Nexus work with?
Extreme PBR Nexus (That is, the 4.1 version of Extreme PBR) works from Blender 3.3-3.4-3.5-3.6-4.0 and up to the latest officially released versions of Blender.
We will always try to respect Blender LTS releases and their lifecycle👍

A note of caution: Extreme PBR has been tested on the official versions of Blender, i.e. those you can download for free from the website https://www.blender.org/ This addon is compatible with Cycles and Eevee – other render engines that do not use the official Blender nodes will not work.
---
More than 9000 people around the world use Extreme PBR!
We are happy to have achieved this small goal. We have more than 10 years of experience in 3D work, and are constantly trying to make it easier for professionals who work on a tight deadline. As such, every day we work on suggestions from our customers to bring improvements.
---
Any questions? Feel free to ask!
Feel free to write to me, I'm happy to answer your questions. [If possible, let me know your issues in a single message.] Here in the right sidebar, you'll find the "Ask a question" button – get in touch and I'll answer you personally👍
Don't worry – I will also provide support if you have any issues with the addon. 
If you're a longtime user and have any doubts about new features, don't hesitate to write – I'll always assist everyone 😀👍
---
Check out my top products: Here
---
Credits: