Easy Material Setup V2 (Procedural, Asset Library)
---
Easy Material Setup - Asset Library of fully procedural material assemblies for Blender.
Introducing the improved and fully enhanced version of my "Easy Material Setup" material library! With streamlined access to a wider range of materials, it's now easier than ever to find the perfect look for your project. Fine-tuning your materials has never been simpler - just adjust a few parameters and watch as your designs come to life with stunning accuracy
Why choose Easy Material Setup?

Our shaders and materials are exclusively created within Blender, requiring no additional software or version support. Our node groups and geometric nodes are organized neatly within our Asset Library, without the need for addons or dependence on library updates. This results in a stable, hassle-free experience for all Blender users.
---
How do I install Easy Material Setup? 

It's a piece of cake:
Download;
Unzip the zip file to any folder on your computer (in the documents for example);
Open Blender and go to Preferences (Edit -> Preferences);
Open tab "File Path" -> Asset Library;
Click on the plus sign and select the folder that contains the unpacked files from the archive.
Save your settings
Now you have Easy Material Setup library always at hand - open blender - open the library and use the materials :)
---
EMS v2.5
In this update:
-- Update all preview balls for materials (they've gotten bigger and nicer)




-- !! Update scale to near real scale on all materials and geometric nodes
(what this means - this means when you apply material to your object, scratches on it will be generated based on the size of the real world, for example when we add a cube it is the size of 2x2 meters and applying damage to it, scratches will be very small)




-- Renovation of all materials and an overall improvement in material quality




-- Adding some geometric nodes

-- Update the snow generator and adding an icicle generator (the old one was removed)


---
EMS v2.1.5
In this update:
-- Damage operation bug on Blender version 3.2;
-- Added damage bake control to improve performance inside the damage combiner:
Connect "Base Damage Result" output (Easy Material Base [Combiner][Base Node][Shader]) and "Surface" input (Material Output);
On the tab "Bake" - "Bake type" set to "Emit";
Create an image 32bit where we will bake in the shader editor and click "Bake";
Connect the image to the input "Bake Color" and set the "Baked Damage Factor" to 1.
See in this video
-- A slight modification of the snow shader - now it has a shine of crystals when lighting.


---
EMS v2.3
In this update:
-- New Hologram material presets (12);
--
Snow Remaster:
Add New Frosting material presets (+6);
Snow remastering with crystal shine;
Improvement performance for Snow Shader;
Snow Generator v2 (Geometry Node Modifier) - remaster with more predictable result;
Snow Generator v2 (Geometry Node Modifier) - Improvement performance;
Now snow shader working on "EEVEE".

--
"Cycles" and "Eevee" material output has been created
for all materials (Since procedural shaders have poor performance on "Eevee", some materials will now have a simplified shader system for "Eevee");
---
Also "Easy Material Setup v2" now includes "Easy Procedural Wood". Not only it is adapted and refined, so it's more productive, but also got a library divided into two parts - wood texture and damaged wood texture.

There is also "
Easy Procedural Snow Shader
" inside. With its help you can create snow on your objects even faster and even easier, because in addition to the shader I created the "Snow Generator" on Geometric Nodes, which will immerse in snow your whole scene.
Watch this short video, I tried to show as much as possible in a short period of time. How to install "Easy Material Setup v2" how to use and how to adjust the result, how to use the "Snow Generator"
More details in new videos

Easy Material Setup – these are fully procedural groups of nodes designed to facilitate the task of creating materials in Blender3d. They are combined into modules that perform different tasks.
To quickly create almost any material using standard nodes from Blender3d, (Procedural Metal, Plastic, Rock...), generation of damage, scratches, damage at the edges.
Caution! This Material Setup is experiencing performance

problems on the EEVEE render engine

, to improve performance I recommend baking the result of the operation with "Easy Mask Node Noised Modifier [Base Node]" and "Easy Scatter Damage [Base Node] [Procedural Damage]" nodes.

For most people this is not a problem - you can always bake the damage or bake the entire texture to get performance - but I feel I should warn you - since these materials are completely procedural and replace your texturing process. :)
The baking demo is in the video (time referenced link)(For versions before EMS v2.1.5)
How quick Bake Damage in Easy Material Setup v2.1 (For more Performance) (EMS v2.1.5 +)

I also highly recommend making sure you are using your graphics card as the renderer.   
Instructions on how to improve performance will be below. 
---
What Inside

Inside Asset Library you get :
104 Material Preset:
--12 Hologram;
--16 Plastic;
--16 Metal;
--16 Rock;
--32 Wood;
--12 Snow;


48 Node Group;
--3 Base Node
--4 Combiner
--15 Procedural Damage | Value
--4 Procedural Mask
--6 Shader
--5 Support
--5 Value Modifier
--7 [[Techical Node]]


 Stormtooper helmet, Iron Man helmet, chess Horse model...
---
Plastic Materials Preset (16)
Metal Materials Preset (16)
Rock Materials Preset (16)
Wood Materials Preset (16)

Damaged Wood Materials Preset (16)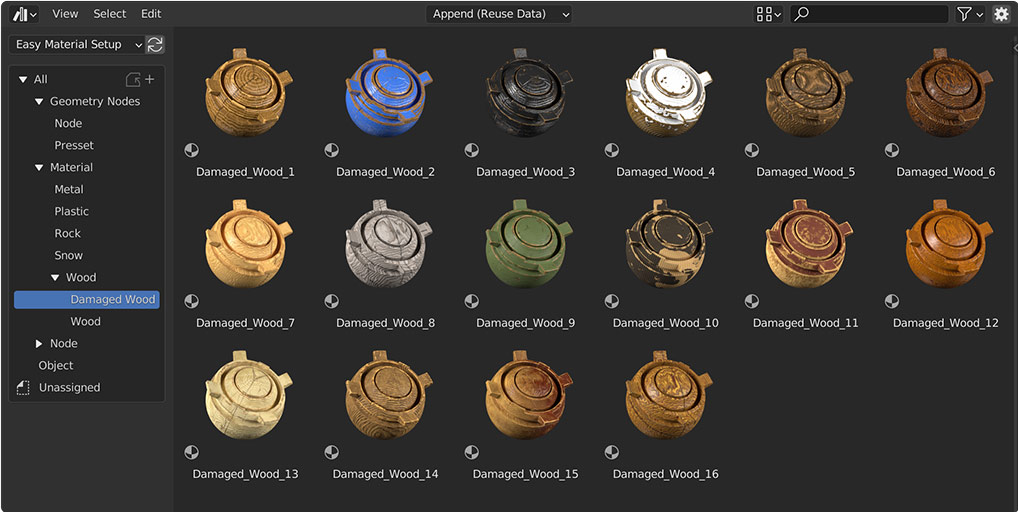 Hologram Materials Preset (12)
Snow Materials Preset (6)


---Geometry Nodes Preset (2 Snow Generator / 12 Preset)


---Node
Base Node
Combiner 
Procedural Damage
Procedural Mask
Shader
Support
Value Modifier
Technical Node
---Object
---Short Animations :)
_ _ _ _ _ _ _ _ _ _ _ _ _ _ _ _ _ _ _ _ _ _ _ _
How Speed UP your Viewport/Render Performance in Blender3d

Brief theses:
1. In "Edit - Preferences - System" make sure that you have activated the checkbox on the video card.
2. In the Render Properties, switch to Cycles. This shader is too complicated for EEVEE and although it works, it slows down a lot.
3. Also switch to GPU rendering.
4. Use an Optix denoiser or an Open Image Denoiser.
5. At the actual rendering, if you have an average or good video card use big tiles size for best performance(256 px or 512 px (for my)).

Or Image Guide for you :)
Three steps for best performance:


---
Also my other products: