Procedural Food - Fruits And Vegetables
---
The Procedural Fruits and Vegetables is a set of fully procedurally textured edibles with dynamic adjustable shaders and proper fully quad based topology.
Absolutely no image based textures were harmed during the making of these models - All materials use pure node based solutions exclusively with procedural textures, smart use of UV maps and a myriad of techniques to produce a varied and realistic set of products.
Procedural texture variations guarantee no two pieces are exactly equal - All materials have built in color and texture variations to avoid the "Repeating Pattern Syndrome".
Fruits meshes and vegetables are properly modeled using a full quad based topology - With intact modifier stack, using mirroring wherever possible, and retaining a low resolution based mesh bellow an adjustable Subdivision Surface modifier so the final mesh resolution may be adapted to each particular case, depending on the required balance between detail and resources.
Automatic subtle fruit variation - Additionally a Displace modifier placed at the bottom of the modifier stack guarantees no final mesh is exactly equal to another, adding another subtle variation layer to each instance.
Properly named and organized scene hierarchy - All objects are properly named and assigned to both individual Collection and pre-made "bundles" (box sets, crates and fruit bowls) all appendable/linkable as single objects (for each fruit) or as Collection Instances for pre-made bundles.
There are a total of 30 different fruit models and 5 vegetable shapes which combined with different materials generate a total of 47 unique pieces.
Fruits

Apples

Fuiji Apple
Royal Gala Apple
Golden Delicious Apple
Granny Smith Apple
Pink Lady Apple
Russet Apple
Red Delicous Apple

Pears

Yellow Pear
Short Green and Red Pear
Pointy Green and Red Pear
Russet Pear
Narrow Green Pear
Short Green Pear
Elongated Green Brown Pear

Citrus

Ripe Orange
Unripe Orange
Tangerine
Clementine
Lemon
Lime

Peaches

Grooved Yellow Peach
Grooved Red Peach
White Paraguayo
Red Paraguayo
Orange Peach
Nectarine

Plums

Mirabelles Yellow Plum
Red Plum
Purple Plum
Greengages Green Plum
Yellowgage Golden Plum
Damsons Purple Plum

Others

Banana (Single)
Banana (Bundle)
Watermelon
Green Melon
Strawberry

Vegetables

Green Bell Pepper
Yellow Bell Pepper
Orange Bell Pepper
Red Bell Pepper
Tomato
Eggplant
Asparagus
Broccoli
Bonus free fruit crate and modern tropical-wood fruit box models included, both also with high quality fully procedural wood materials. Scene setups used in illustrations also included in file.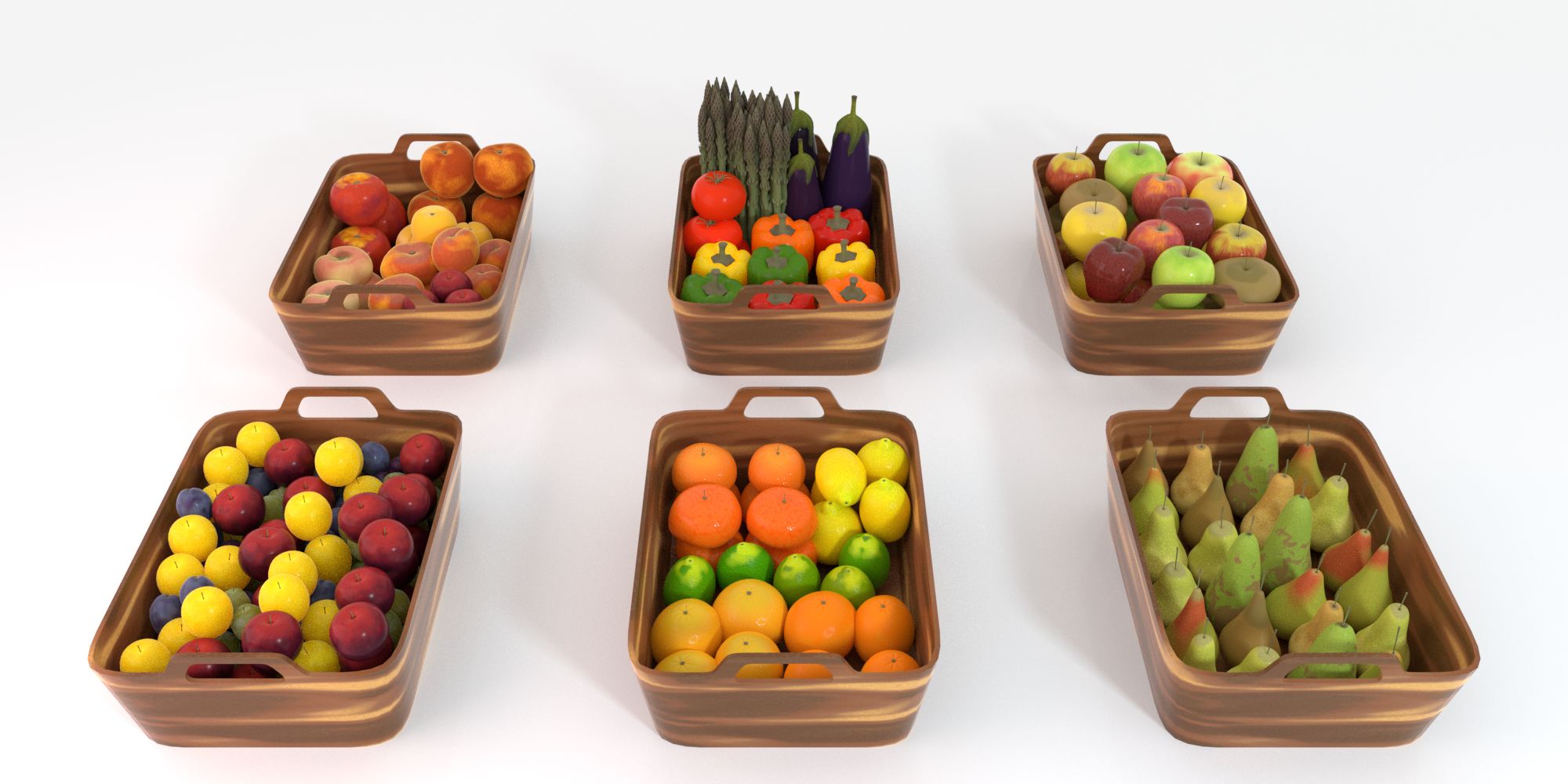 All scenes and assets have been updated for 2.8+ compatibility, including proper scene hierarchy, sanely named collections, linking/appending ready instances and EEVEE compatible materials. For Blender 3.0 assets have been made of individual fruit objects so they can be linked or appended from an asset library.

I plan to gradually upgrade these over time, adding more fruits and vegetables and improving the current ones. This is planed to eventually become part of a series larger of collections of other fully procedural food products and edibles made specifically for rendering with Blender Cycles Render Engine or EEVEE.
Disclaimer: Have in mind that while all products have high quality procedural textures; they are meant as decorative assets for background or part of a larger scene. These are not meant as foreground objects, scene main subject nor close ups.
When using with EEVEE, the large amount of different materials, and the individual complexity of  each shader will have a significant toll on system resources. While it ran fine on tested hardware, even with the complete setup loaded in, expect a significant compilation time for all shaders.