What is Bool It ? 
Bool it is a a quick way to apply booleans in object mode and manage them. Cool for beginners who wants to create hard surface style modeling without loosing their mind :) . Can save time for others ...
Hard surface modeling is a complex process. They are many addons that are great for advanced users, and do a very great job for that... And you know, the edit mode of blender is so powerful that you can create complex structures starting from a cube !
But for beginners,  sometimes it can be a little frustrating to spend hours understanding menus or learning the shortcuts to create simple shapes ( in fact, like me ). 
Bool it is a fun addon that helps you manage booleans easily, and mimic hard surface modeling . With only union and soustraction, the idea is to arrange your blocks / parts in the viewport in object mode and select wich part is positive or negative. 
*** New version 1.5 // New UI and addition of The Quick Edit Panel ***
- The new Quick Edit panel -  
The new Quick Edit panel is a set of intuitive shortcuts that make editing of Edges and Faces faster .
( For info, it can be available as a separate Addon if you re not interested by the booleans things )
Quick Edit is simple to use. The green icons are shortcuts for editing edges. The pink icons are for editing faces.
When you click on an icon, the object mode switch to the editing mode, select the right tool in relation to edge or face.
It can be handy to edit an edge or face on your part on the fly.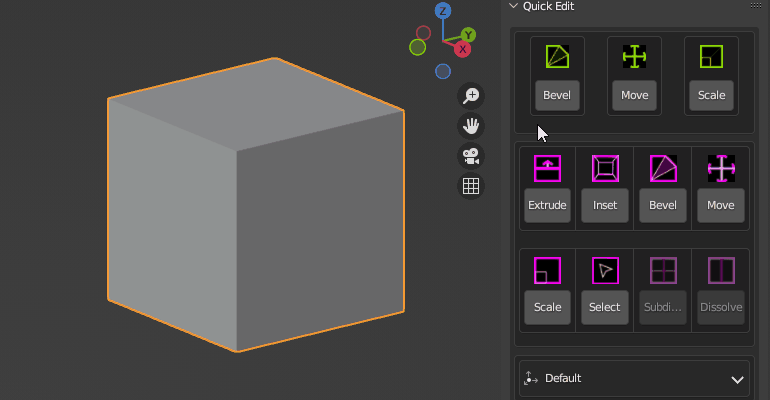 Once you have done your editing, double clicking on the left mouse bouton switch to the object mode.
*** Fast modifier application on parts // Bevel, panel cut, array ***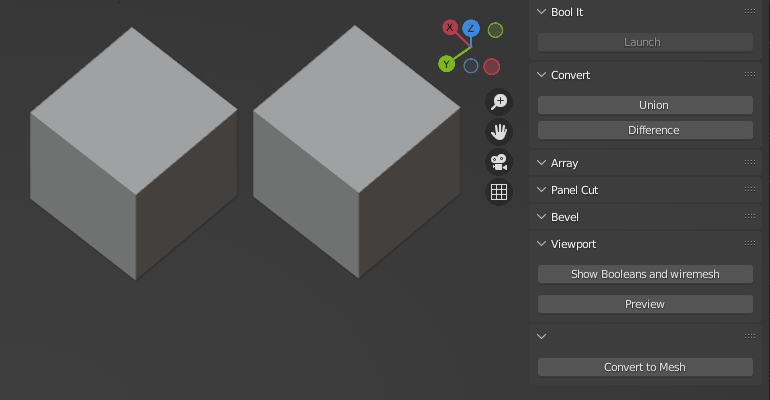 Why using Bool It ?
- Easy
- You can apply modifiers on each parts 
- You can arrange, rotate, scale your parts easily in the object mode
- You can use the asset browser to add a part in the object mode wich is a great because you can't do it  in editing mode ( when you create hard surface modeling ).and apply quickly booleans on it 
- Before converting yours parts to a unique mesh, you still can do refinements thanks to the classic edit mode or the new handy Quick Panel ( to apply bevel on specific edges for example ).
- It can be a time saver for advanced users 
- Convert all the booleans into mesh in one click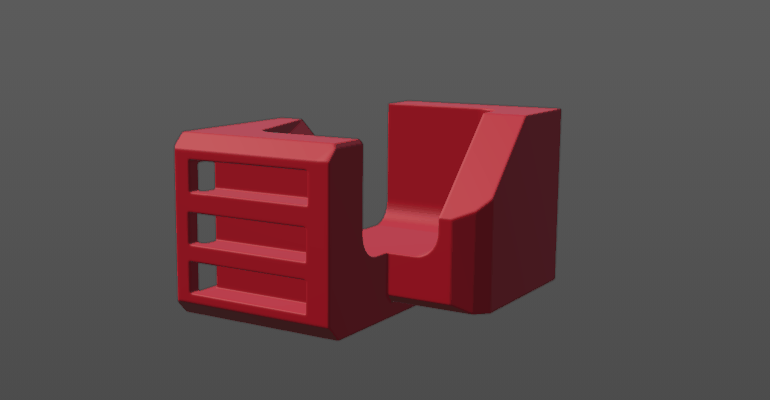 It is my first creation with the addon. It takes me 5min, and i have no skills in hard surface modeling . My second is the sf house...
Not outstanding for sure ha ha, but i am happy with it !
------------------------------------------------------------------------
With the same philosophy of simplicity, i have created an other addon Metaballify, an organic shapes modeler. This one, can help to create creatures, organic shapes.