Bathroom Essentials 2022 - Design Tool & Asset Library
---
Discover
Latest Update: November 2022
Asset Browser is Supported!
We bring you new collection of best archiviz assets that will fill your bathroom projects within minutes! Bathroom Essentials is the unique asset library of more than 200 high quality, render-ready models and 60 materials for bathroom visualizations, powered by our very own Flow Asset Manager, that is also included with this product! Create breathtaking photorealistic bathrooms within minutes. There is no need to spend time searching for single models, adjusting them or modeling your own, because all you need is now in this pack. With our assets you can create bathroom in line with the latest trends as well as in a more classic style.
Try our Essentials packs for free
The free demo is now available and includes sample models, materials & free version of Flow plugin
Create amazing bathroom designs with no effort!
Use Bathroom Essentials assets powered by Flow Asset & Material painter to add dozens of models and materials to your scene just with a few clicks. Save your time and create realistic designs and visualizations with our detailed assets!
Tweak assets from the panel-level to create unlimited variations!
Tweak your assets directly from the panel level, transforming the 200 assets into the unlimited combinations! For almost each model, we've prepared the special set of properties, that allows you to customize it just the way you want in seconds! See below what different results can you achieve with using the same set of assets, tweaked without the need accessing the Shader Editor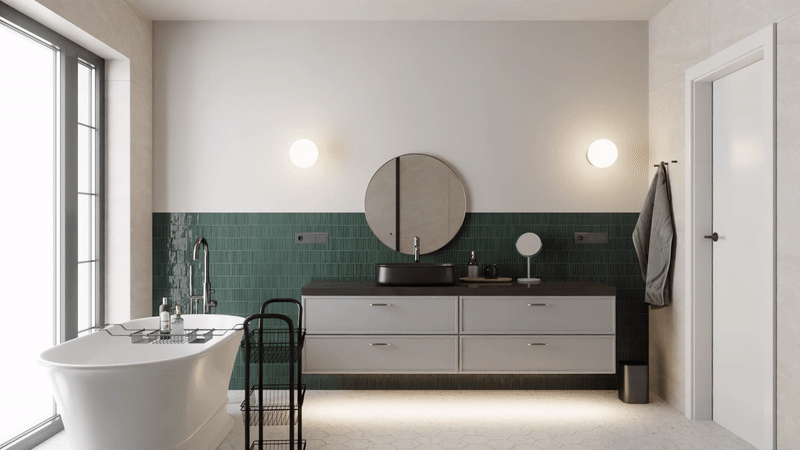 Discover the Bathroom Essentials assets!
There is over 200 hand-crafted and unique assets in the Bathroom Essentials library. Models and materials, accessible both with the Flow plugin and with the Asset Browser. We do our best to keep as high quality for each model and material as possible
Discover all of them on our website
Use Tiles Generator to create unlimited tiles shaders!
Our Flow Asset & Material painter has also a feature that is a perfect complement to our bathroom pack called Tiles Generator. It allows you to create infinite amounts of tile patterns, by transforming your any repeatable set of textures into the unique pattern. Load your images, tweak shape and material parameters and create just any ceramic tiles you want!
Expand your library in your own way!
With the Flow plugin, you can also add your very own assets to the library easily. They will be also accessible from the Blenders Asset Browser!
Save your time and create better renders!