Written by Amber Kelly
Blender Conference 2022
After a short hiatus, Blender Conference returned to Amsterdam this year with great success.  Blender Market was a sponsor of the event and many of us were there to share our passion and love of Blender.  
Beyond hosting a table we also hosted a SIG for Blender Market Creators as well as a podcast and several talks by the greater Blender Market and CG Cookie family.
.      
.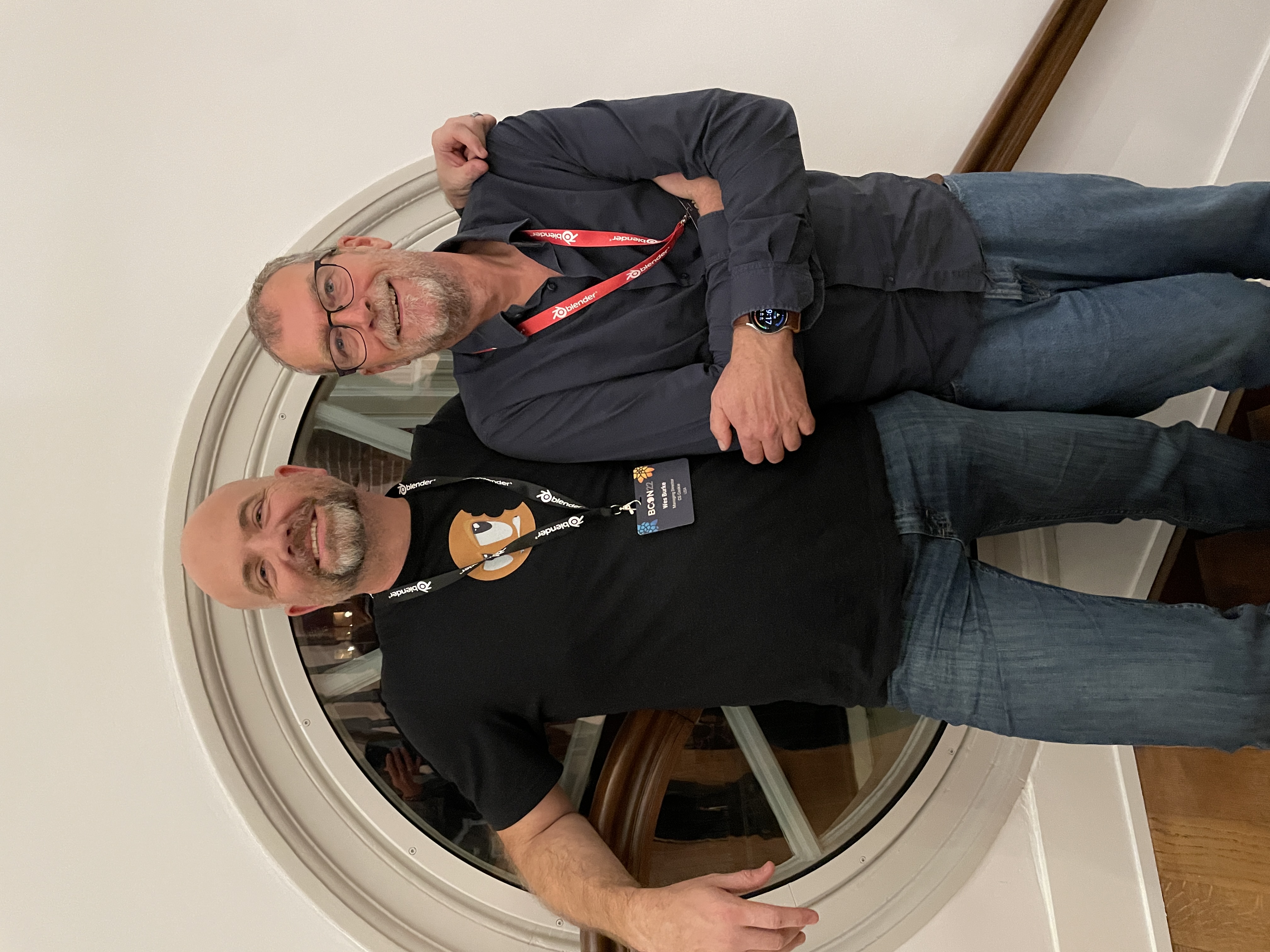 👆 Here is Jonathan Williamson working on the Blender Market Sale, Matthew Muldoon rejoicing over helping a Creator on Blender Market and Wes Burke with Ton Roosendaal, Creator of Blender
View the entire Blender Conference Online Now
If you were not able to attend, you can watch the entire conference on the Blender YouTube channel because in classic Blender fashion they have made the entire conference available for everyone.   
Listen to the Blender Live Podcasts
You can also listen in on the podcasts here.  We would like to invite you to this podcast in particular:  Building Blender Products, hosted by Jonathan Williamson, co-founder of Blender Market speaking with Creators you know as TrueVFX and polygoniq.  Learn who the people are behind the products and finally solve the mystery of how to pronounce polygoniq.  This is truly great insight on what life is like as a creator on Blender Market.


Learn Blender Development
If you are interested in learning Blender development, we recommend this workshop from Jason van Gumster and Dr. Jon Denning from CG Cookie, the Blender Market umbrella company and the new branch company Orange Turbine.
BCON Sale Results
To celebrate BCON, we decided to run a flash sale on Blender Market and offer 20% off Blender products.  In the spirit of transparency, here is how things went for our Creators and our customers who snagged a great deal.
These are the results of the 4 days of the sale October 27 - 30.
Gross Market Value: $183,160.4
Creator earnings: $147,705.29
Affiliate earnings: $7,022.81
Def Fund donations: $3,084.59
Total refunds: $519.64
Creators with at least one sale: 706
Affiliates with at least one referral: 53
Unique customers: 5,381
Unique products sold: 1,673
Total products sold: 11,426
Total orders: 6,636
Total referrals: 1,347
Thank you,
We were truly honored to have met each and every one of you who came by to say hello and share your stories of what Blender and Blender Market have meant for you, your lives and your business.   What a beautiful reminder of why Blender Market was started and how we are all working together toward the goal of offering opportunities and valuable products to Blender Artists new and old proficient. 
🧡 - the Blender Market and CG Cookie Crew
(pictured below, those of us who made it to BCON in our BCON prom photo)