Low Poly Environment Builder Addon
---
What is 

Low Poly Environment Builder Add-on?

Low Poly Environment Builder is a powerful add-on that makes you able to create low poly environments like islands or forests...., this is the first version, and next update we will try to add more different low poly environment styles. 
Usage:
The Low Poly Environment Builder add-on panel is located in a section of the N-Panel.
new update : UPDATE 1.5.0 :
we fix all problems, now you will be able to use the addon in blender 3.2 and 3.3.1
new update : UPDATE 1.4.0 ( 
Requires blender 3
.
0+) 
20 low poly environment style was added (asset library) :



Easy Controls :
The core of the add-on is Geometry Nodes, but the add-on makes it much more convenient.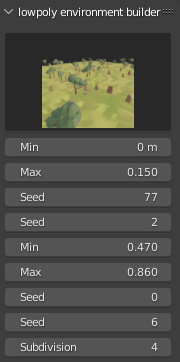 What you'll get

?

Requires Blender 3.0+


For responses and inquiries, contact marocsofiane20@gmail.com

On Discord: https://discord.gg/S6WSj3aGaW

Contact me if you need any help, comments and criticism are also welcome. Enjoy!