An expanded version of the Mix Color Node.
The number of blend types has been increased to 67.
Basic - (MIX, DIVIDE, DARKEN, OVERLAY, DODGE etc.)

More Exotic Options - (RIPPLE, PIN_LIGHT, POLAR, VIVID_LIGHT, PHOENIX, CONTRAST, FREEZE, HEAT, REFLECT, GLOW etc.)
Added Weight parameters for more diverse texture and color settings.
Added ability to adjust Red, Green, Blue channels with Math Actions (18 options: Multiplication, Division, Logarithm, Power, Sine, etc.)

Switching between effects is done using the Blend_Type and Math_Action sockets. There will be a Documentation.txt file in the Text Editor that contains the sequence numbers and names of the effects.
Note:
The effects may have some differences or be completely unlike those provided by the standard Blender Mix Node.
The script is written in Open Shading Language rendering is available ONLY on the Cycles Engine.

For Blender version 3.4 and below, rendering ONLY on the CPU is supported.
Starting with version 3.5, the ability to render on an Optix-enabled GPU is available.
DIVIDE
FREEZE
SOFT_BURN
Some options have two or more varieties.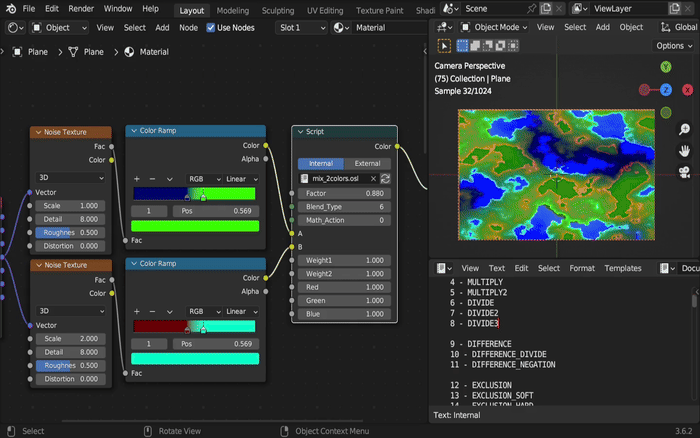 MATH_ACTIONS
The effect will be more noticeable if the channel values are not equal to 1 or 0.

Add-on is installed in a standard way. After that in Shader Editor will appear a panel with a button to append Mix Color Node.
To use the node, activate the Open Shading Language checkbox by selecting the Cycles Rendering Engine, as shown in the video.
Node Parameters:
Factor - Distribution Factor
Blend_Type - switch between blending types (from 0 to 66)
Math_Action - switch between math actions (from 0 to 17).
A - Color 1
B - Color 2
Weight1 - Weight parameter for A
Weight2 - Weight parameter for B
Red - red channel
Green - green channel
Blue - blue channel